Alarms Systems & CCTV Melbourne Wide
Homes and business security alarm systems
From residential homes right through to commercial factories and businesses, BlueCorp Security will help secure your Melbourne premises by installing quality security alarms systems tailored to suit any budget.
Why Install a Security Alarm System?
Help deter vandalism and property theft
Improve employee and personal safety
Reduce your home and contents insurance policy
Types of BlueCorp Security Alarms Available:
Hardwired alarms systems
Wireless alarm systems
Door and window sensors
Photoelectric Beams

Glass Breakage and Vibration Detectors
Smoke alarms
Remote control activation alarms
All BlueCorp Security Alarms include a full training session to ensure that you know how to use your new system.
To receive a FREE home or business quote in Frankston or Melbournes south east suburbs on all our security alarm systems, contact us on 1300 133 654.
CCTV Security Camera & DVR Systems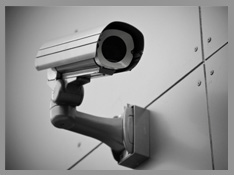 The BlueCorp Security team can help you choose the right CCTV security surveillance systems for your Frankston business. By offering the right service, price and advice, we can help you to eradicate business loses as a result of theft, crime, and reduced employee productivity.
CCTV and camera systems are a must in any business today, as it can not only help secure your business from losses but can also prevent any false liability or work cover claims against your company.
CCTV Systems Will:
Deter shoplifiting
Deter employee theft and false accident claims
Improve employee and customer safety
Reduce insurance costs and fraudulent liability claims
Allow you to keep an eye on your business from a remote location in real time anywhere in the world
Types of CCTV and Camera Systems:
Digital Video Recorders (DVRs)
Hidden CCTV Cameras
Night Vision and Thermal Cameras
Flat Panel LCD Monitors

Pan, Tilt and Zoom Cameras
Dome Security Cameras
External Security Cameras
Every CCTV installation is backed with onsite training to give you peace of mind.
CCTV units and camera systems are also a great way to protect your home.
To receive a FREE residential or business CCTV quote in Frankston or throughout the South Eastern Suburbs please contact us on 1300 133 654.